A recipe from Cooking for a Healthy Heart

Preparation time: 15 minutes
Cooking time: 40 minutes

Serves 2

Nutritional Facts
kcals 310 (1200 kJ) Fat 9 g, of which 1.5 g saturated Sodium 105 mg

1 Heat 1 teaspoon of the oil in a non-stick frying pan and gently cook the mushrooms for about 5 minutes until tender. Season to taste. Remove the pan from the heat and add the lemon rind and juice and herbs.

2 Meanwhile, cook the potatoes in boiling water or a steamer for about 10 minutes until just tender. Drain and allow to cool. Place the potatoes and garlic in a roasting tin, brush with most of the remaining oil and roast in a preheated oven, 200C (400F), Gas Mark 6, for about 20 minutes, until golden brown.

3 Make a crisscross incision on the skin side of the fish (to prevent the fish from curling). Make a cut lengthways down the side of each fillet into the centre and prise open creating a pocket for the stuffing. Brush with the remaining oil and stuff with the mushroom and herb mixture. Close the pocket to return the fish to its original shape.

4 Season with pepper to taste and place on top of the potatoes. Return to the oven and bake for 56 minutes (depending on size) until cooked through.

5 Serve with the fish placed on top of the potatoes and garnished with chopped herbs.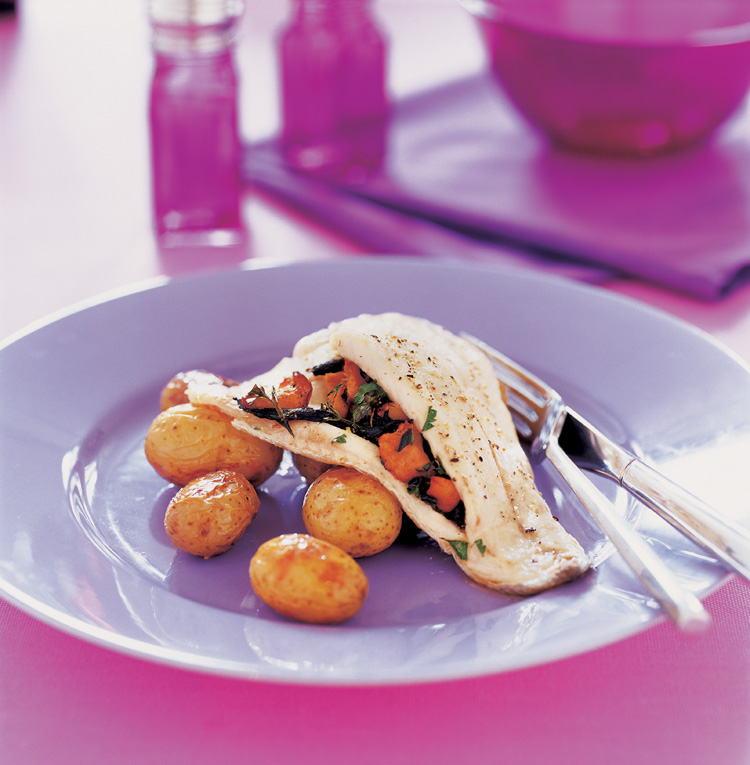 1 tablespoon olive oil
125 g (4 oz) mixed mushrooms, preferably wild, sliced
grated rind and juice of 1 lemon
handful of mixed herbs (such as
flat leaf parsley, thyme, green or purple basil), roughly chopped
14 tiny new potatoes
1 garlic clove, crushed
2 sea bass fillets, about 125 g
(4 oz) each
freshly ground black pepper
chopped herbs, to garnish

Nutritional Tips
Sea bass contains a moderate amount of omega-3 fatty acids at 0.4 g per serving (100 g/31/2 oz). The recommended amount is 1 g per day. You can add a further 0.9 g of omega-3 to your meal by serving spinach with your fish. Spinach contains 0.9 g omega-3 fatty acids per 100 g (31/2 oz).

Cooking for a Healthy Heart by Jacqui Morrell, published by Hamlyn, £5.99 (www.octopusbooks.co.uk)