Potkin Azarmehrís Triple Bypass Diary Part 4
5th October 2015
It is now exactly three weeks since I was discharged from hospital after my triple bypass heart operation. I can now walk for as much as I like, my sleeping is better and I have less pain in my chest and back but I am not completely without pain.
The highlight of the week was my vascular check appointment at the Royal Free hospital. Going there as an out-patient, I realised how difficult it must have been for those who came to visit me. Very few parking spaces and the hospital was overcrowded with patients and visitors. We had to wait a long time for a parking space and there were so many people using the lifts, it took us a while to be able to get into one.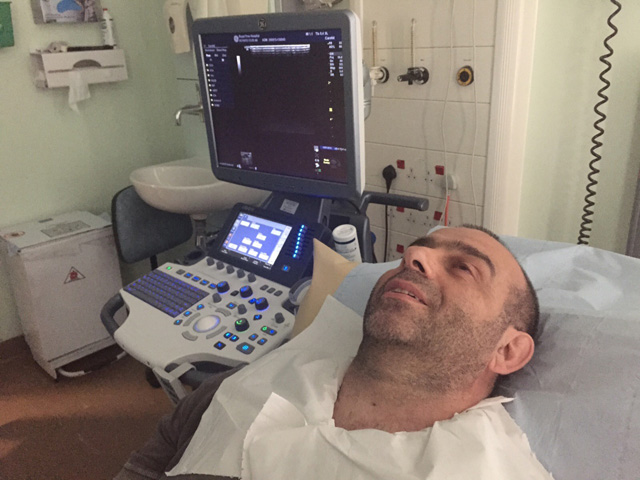 The vascular check was to examine my neck arteries with ultra sound technique to see if there was any narrowing of the arteries in the neck which could lead to a brain stroke. I have to say it was an extremely nerve racking time. The doctor naturally concentrated on the task without being able to show any facial expressions. Meanwhile you can't help but think the worst. Last thing I needed was another bypass operation for my neck arteries. I felt a huge a relief when the doctor finished examining one side of my neck and said, this side is ok. Then I had to go through the same ordeal for the other side. Luckily both sides were ok. I breathed a huge sigh of relief. That was certainly good news and I felt better afterwards. I thanked the doctors several times and we went back to the car feeling much better than when we came.
The other highlight of the week was obviously the England rugby match against Australia. I wanted so much for England to remain in the tournament but rugby is a fair game played by fair people and liked by fair people. At the end of the day, Australia were definitely the better side, they were faster, more disciplined and came up with more creative moves, but the good news I suppose was that my heart stood all the excitement for 80 minutes. The way every team in this tournament has played with absolute commitment, I am sure it will still be a great tournament to watch and enjoy.
The Future
We leave Potkin Azamehr for the moment well on the road to recovery, as this photo taken during his daily walk in the park shows. We will bring you updates from time to time as he progresses to full health and takes up all his physical activities again. He's an inspiration to anyone in the same situation, and we we salute him!