Potkin Azarmehrís Triple Bypass Diary Part 3
21st September, 2015
This rain isn't helpful. I have to do my daily walk routines, 2 x 22 minutes today but I don't want to catch a cold, that would be a disaster.
At the end, somehow managed to get out for my walks during the brief periods the rain had stopped.
My sister has bought me this Fitbit device that I wear on my wrist like a watch.
According to the device, I have managed to to do 7,332 steps, 5.42 Km and been active for 50 minutes today!
(Please see chart below.)
22nd September, 2015
Managed to do the first walk in the morning when it wasn't raining, but in the afternoon had to dash back home and not get soaked. Had to walk around the house to make up for the remainder of my walk. Very boring!
7,204 steps, slightly less than yesterday.
23rd September, 2015
Thank God for sunshine, not only it helps me do my walks, it cheers me up too.
This morning there wasn't a single cloud in the sky, how lucky to be alive. Walked in Trent Park in the morning next to where I used to play Golf. I wonder when I can do that again! I miss the banter and that nice nap after a game of Golf.
My main problem is still the chest pain from the wounds. Also, I sweat a lot at night for some reason.
Tomorrow, is my first appointment with my surgeon since I was discharged from the hospital.
24th September, 2015
Today is my first appointment with my surgeon, Mr. Kolvekar, since I was discharged from the hospital. Have to admit, I am a bit nervous. My wife drove me to his clinic in Harley Street. I am not allowed to drive for another 6 weeks.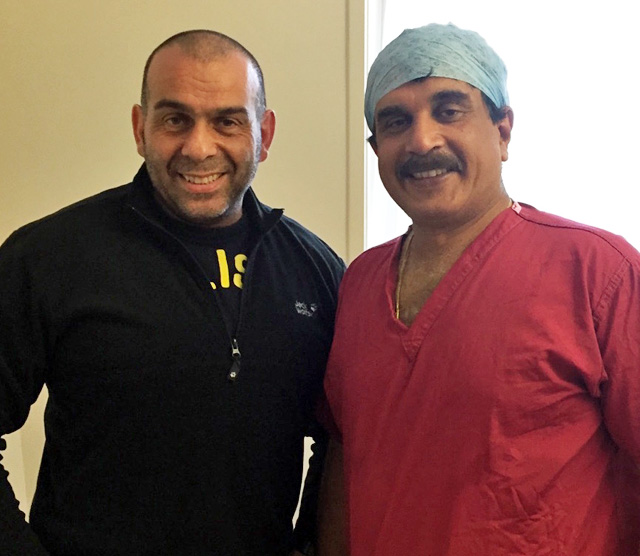 Mr. Kolvekar examined my wounds and seemed pleased with the way they were healing. I told him about my diary on Health.co.uk and he thought it was a good idea. He described one of my medications as an elixir for youth and said it has anti-ageing properties. My wife quipped "Now he will take 10 of them a day to stay younger!". Mr. Kolvekar laughed, I did too, but when I laugh, it hurts! I told Mr. Kolvekar, the pain from the chest wound, pain in the back just above the shoulder blade and sweating at night are my most pressing problems. He said it was all normal, the chest wounds will take 4 - 5 weeks to heal, the back pain is because the chest was opened up, pushed apart and fastened back causing havoc in the back muscles, and the sweating was from taking paracetamols.
What a job surgeons have, how can you ever thank them enough?!
Next we met with my elder son for dinner. It was like a small dose of normal life again. All having dinner together, what a lovely privilege. We decided to give my son a lift back to his university halls of residence, which he has only just moved into. What the car navigator estimated to be a 15 min drive turned out to be a 2.5 hour stressful journey stuck in the Euston-Marylebone traffic jam. I think my car navigator has a special algorithm to take me through the worst possible route and give me maximum stress possible. I have often felt like smashing it with a hammer!
25th September
Sun is shining and I feel good. When they say the Mediterranean people suffer fewer heart attacks because of their diet, I think the sunny climate they enjoy should be included as a factor as well as their healthy diet. I know it makes such a difference to my own mood. My daily walks have now reached 30 minutes, which means from now on, I can walk as much as I like until I feel tired.
So I am off to my second daily walk in the sunshine.
26th - 29th September
Its now two weeks since I was discharged from the hospital and three weeks since I had the bypass operation.
I don't have a set time for walking any more, I can basically walk until I get tired. Am I feeling a lot better since I was discharged? For sure, but I am still a long way away from the way I was. My arms like the rest of my muscles have shrunk, I used to have 17 and 3/4 inches arms and now they are struggling to measure 16.5 inches. I am doing a bit of leg exercises in the park after my walks but still scared of doing any lifting until I get the doctors to give me the go ahead.
The weekend was incredibly busy, lots of people came to see me and of course there were three rugby matches to watch on Saturday, so I had less time for the daily walks. I think I would be feeling a lot better if England had won, let's see if the team can muster the spirit to get through to the next round against all odds. It will definitely be very motivating.
To be continued...