A recipe from Cooking for a Healthy Heart

Preparation time: 15 minutes
Cooking time: 15 minutes

Serves 4

Nutritional Facts
kcals 310 (1302?kJ) Fat 10 g, of which 2 g saturated Sodium 300 mg

1 Place the ingredients for the glaze in a small saucepan. Bring to the boil, then reduce the heat and simmer until the mixture reduces and is of a glaze consistency. Keep hot.

2 For the parsnip pure, steam the parsnips and potatoes until tender. Drain if necessary and place in a food processor or blender with the yogurt, horseradish (if using) and pepper to taste. Process until blended. Keep warm or reheat prior to serving.

3 Brush the tuna with oil. Cook on a preheated, very hot griddle or barbecue, or in a frying pan or under a grill, for 12 minutes. Turn and spoon the glaze over the tuna. Cook for a further 12 minutes it is best if moist and still slightly pink in the centre.

4 To serve, top a mound of the pure with a tuna steak and spoon over the remaining glaze. Accompany with steamed green vegetables, if liked.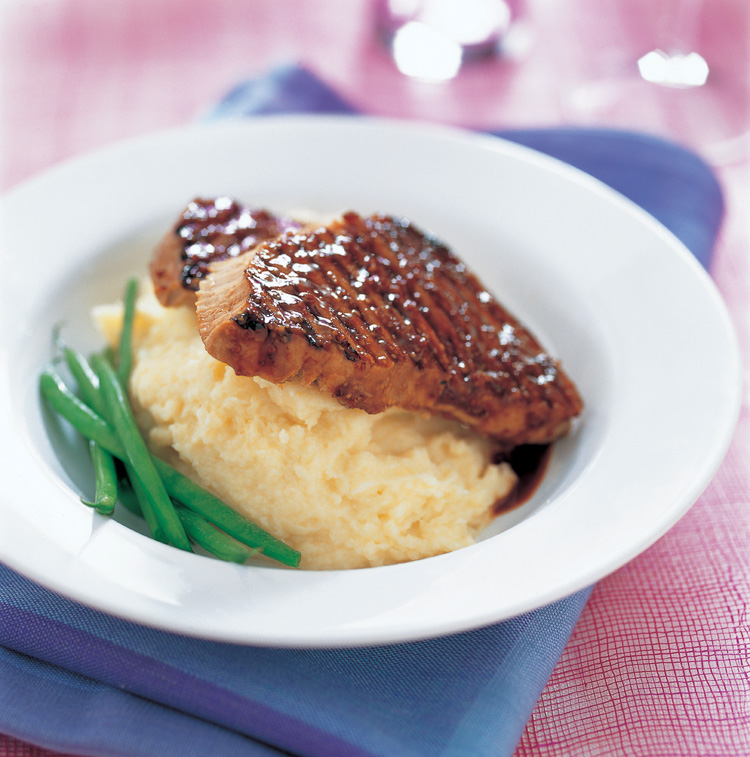 4 tuna steaks, about 125 g
(4 oz) each
2 teaspoons olive oil

Glaze
1 tablespoon honey
2 tablespoons wholegrain mustard
1 teaspoon tomato pure
2 tablespoons orange juice
1 tablespoon red wine vinegar or balsamic vinegar
freshly ground black pepper

Parsnip Pure
2 parsnips, cut into chunks
2 potatoes, cut into chunks
50 g (2 oz) natural yogurt
2 teaspoons horseradish relish (optional)

Nutritional Tips
Griddling is a healthy way to cook, since it requires little or no added fat, and any fat from the food can drain away. Griddle pans can be heated to a very high heat, which gives food a delicious flavour and helps to seal in all the juices.

Cooking for a Healthy Heart by Jacqui Morrell, published by Hamlyn, £5.99 (www.octopusbooks.co.uk)